"My mission is to popularize prestigious hairdressing,
not only in Poland but also on a global level.
I feel obliged to share my knowledge and let people feel
the benefits of proper education.
High standards are a guarantee of success"

Dobrawa Piękos – Szymańska
Dobrawa Piękos – Szymańska is a sought-after influencer, an independent hairdresser but above all an excellent educator.
The youngest trainer at Wella Professionals Poland, the first trainer of Polish origin at the legendary Vidal Sassoon Academy in London.
At Vidal Sassoon Dobrawa awoke her vocation to be a teacher. The academy in London.This was the place where my vocation to be a teacher was awakened, she says.
Holding the position of the first Polish woman in educational team at VS, she was responsible for building the educational structure for international students on all levels of experience.
Working in the multicultural community required Dobrawa to develop a set of skills which have turned out to be the ones that make her stand out the most – openness and respect for different cultures and values, flexibility, ability to built the team spirit and fill the classroom with positive vibrations together with communication enhancing productivity among students with various backgrounds, at different stages of life and experience to name only a few.
For over 8 years at VS Academy Dobrawa had the pleasure to work closely with the man who changed the world with a pair of scissors. Vidal Sassoon, his extraordinary personality and life story made her establish a motto "seeing is believing".
In 2014 Dobrawa came back to Poland with a strong sense of mission – to change the existing form of hair crafitng in Poland. To open the minds and to untangle the hands of stiff hairdressers frequently lacking proper education and self-confidence – that was her vision. For almost a decade now Dobrawa has not lost her appetite and in 2022 she is spreading her wings even beyond the borders of her home country.
Dobrawa admits that at this stage her education strategy is students-tailored – having over 5000 graduates the Academy has loads of feedback on the areas of knowledge which students need to cover to become self assured professionals.
I have managed to gain trust of hundreds. They learn mechanics of haircraft with great attention and respect, bring new skills to life with confidence and strive for more. They rise one of the most important convictions – it is not connections or any magical powers that will lead them to success, their own hard work is the key to prosperity, she replies when asked about her achievements.
Dobrawa has worked with the hair of stars like Keanu Reeves, Keira Knightely, Mila Jovovich and many worldwide known influencers and beauty insiders.
Over the years of work Dobrawa has taken the role of Creative Director at TV Shows such as Gok Wan "Stylish Revolutions", "Just the Two of Us" and is a regular guest of TV Talks where she shares her professional expertise. Her work and comments have broadly appeared in many publications such as Estetica Magazine, Joy, Glamour, Gala and many more. Dobrawa was involved in many world class events such as London Fashion Week, Fashion Shows in Paris, Amsterdam, Berlin. She contributed to various TV productions and projects in Poland.
Recently Dobrawa has represented Poland as a member of Jury at Global Creative Awards Contest in Amsterdam.
Year 2022 is full of many interesting international projects both for Dobrawa as a professional and Education by Dobrawa International Hairdressing School.
EDUCATION
BY

DOBRAWA
International
School of Hairdressing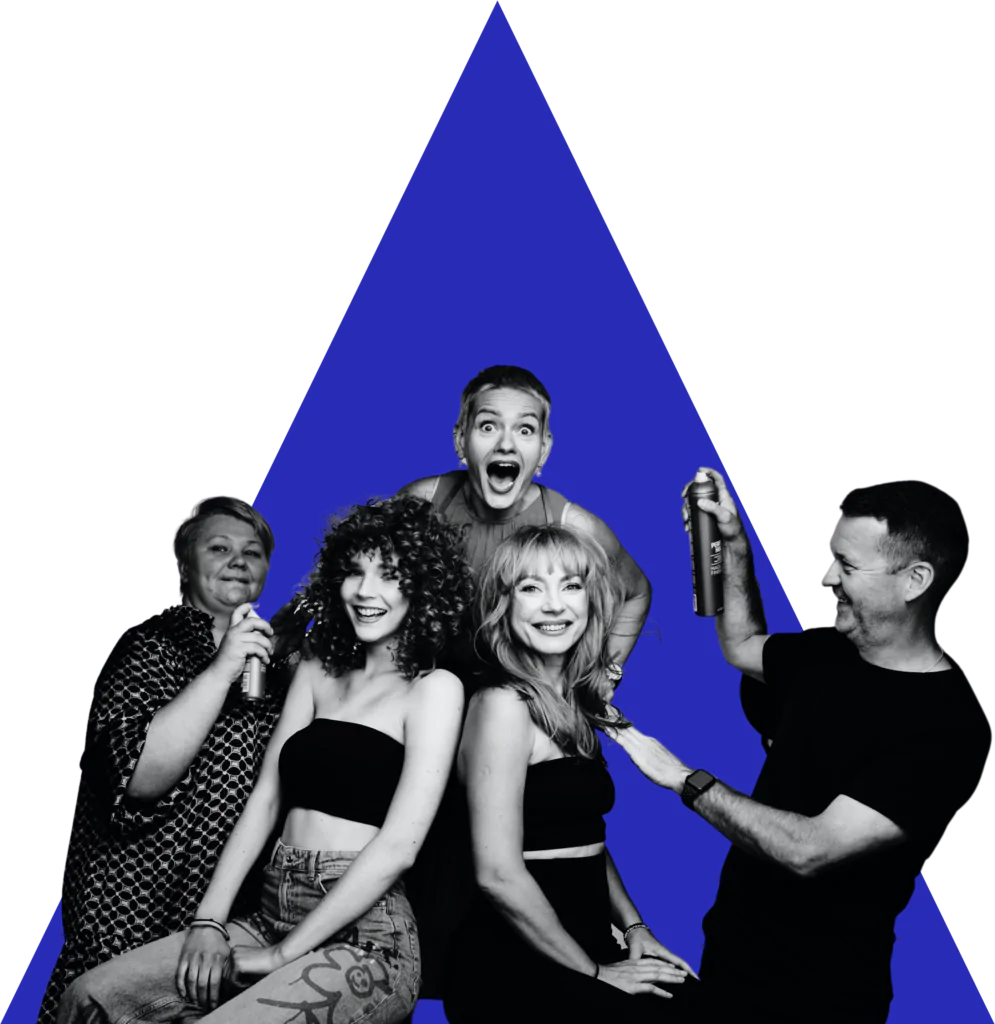 "Faithful to the Bauhaus manifesto we strongly believe that proficiency in craft is essential to every artist"
Education by Dobrawa
With the community of over 5000 graduates Education by Dobrawa Academy is an elite institution. Since the beginning of its existence the educational programme has been based on Vidal Sassoon haircut techniques – "Harvard" of precision design.
In the recent years in response to the needs of students the program has been enriched with elements of psychological training. It has met the expectations of hairdressers on all levels of experience and strengthened Education by Dobrawa brand.
Dobrawa has gone even further and expanded the education scheme with ground-breaking modules that had never been practiced in hair crafting learning before – for example coaching aiming at developing self confidence, physiotherapy and a professional photo session at the end of one of the courses.
Today the Education by Dobrawa Academy is well known for its innovative approach to develop skills of prestigious hair craft. The Educational Centre educates with the original Dobrawa Piekos – Szymańska method which effectively unleashes students' talents and encourages them to value their skills and set powerful goals. Basing on "Harvard" mechanics of hair cutting and employing their dexterity craftsmen hairdressers are able to present their creative potentials.
Education by Dobrawa consists of the selected team of highly experienced professionals who faithfully follow Dobrawa's method, share their passion for the precise, high quality hair craft to the benefit of hairdressers and their clients.
Over 5000 students have completed training at Education by Dobrawa Academy
Academy is open for students from all over the world – we speak Polish and English
Education by Dobrawa has opened a unique education program for amateurs, and guarantees that after 3 months training the graduates are ready to work at a hair salon. (100% of graduates of 3 editions of course "From Amateur to Master" proved this promise is kept)
Students develop skills on many levels – they are ready to provide complex service on the highest level
Teaching programme is tailored to the real needs of hairdressers and is rich in innovative elements
Workshops are run mainly with models
Students work in small groups to maximize and deepen the learning process
View courses